Drug addiction treatment: Diagnostic stage
Drug addiction treatment: Diagnostic stage
Diagnostics is the first and very important stage in a process of recovery. The purpose of diagnostics is to assess physical and mental condition of the patient, to evaluate the extent of drug addiction, to identify the presence of short and long term effects of drug abuse, as well, to define the degree of motivation, criticism and preservation of volitional mechanisms.
The treatment plan for each patient is built up on the results of the diagnostics, which in its turn designates the duration of treatment, method of detoxification, kind of pharmacological blockade, form of psychological correction and rehabilitation.
The standard diagnostic screening at our clinic includes:
Full blood count test;

Biochemical blood test;

Blood tests for hepatitis B, C and HIV infection;

ECG;

General medical examination.
In case of serious aberrations in laboratory tests and/or in case of the presence of the risk factors, we additionally invite specialists from other medical centers to take part in diagnostics and treatment progress. On the basis of our clinic or by the contract with our partner clinics we provide MRI, EEG, ultrasound, x-rays, endoscopy research, as well as we seek for complementary consultation of cardiologists, neurologists, endocrinologists and other specialists. We also provide some specific laboratory tests for drug detection in blood, urine and other bodily fluids.
Experts and medical specialists from abroad are always welcome at our clinic.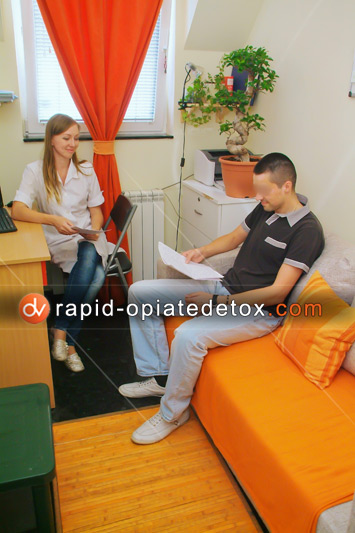 Psychological diagnostics is necessary to evaluate patient's memory capacity, level of intelligence, motivation, criticism, volitional mechanisms. With the help of projective techniques and psychometric tests we assess the degree of depression, anxiety and craving for the drugs. These methods of psychological diagnostics are also very helpful to identify the so called dual conditions when the alcohol or drug addiction is combined with other mental disorders such as bipolar disorder, depression, organic brain damage, schizophrenia, multiple personality disorder and etc.
The results of completed diagnostics process are discussed at the joint medical council with the purpose to elaborate the individual plan of treatment to meet the patient's medical needs to maximum.
Addiction treatment results
Over the past 16 years, hundreds of patients passed the addiction tretment in our clinic, with all kinds of addiction and such concomitant diseases as hemophilia, diabetes, myasthenia gravis, HIV infection, epilepsy, heart defects, and etc. have been successfully treated at our clinic.
Bookmark & Share